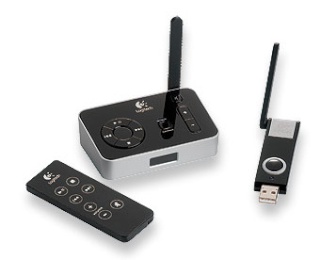 The good:
The Logitech Wireless Music System for PC wirelessly
streams any audio format--including purchased iTunes songs--from a PC
to a home stereo, regardless of copy protection or digital rights
management. It offers reliable wireless audio transmission, decent
sound quality, and easy setup, and it doesn't require a Wi-Fi network.
The bad:
The Logitech Wireless Music System lacks a visual user
interface and offers limited remote control functions that work only
with certain audio-player applications. The system's default
configuration disables your PC speakers when it's in use. There are no
digital audio outputs, the optional Music Anywhere software is
unrefined, and the package is fairly pricey.
The bottom line:
The
Logitech Wireless Music System can wirelessly stream any audio file
format from your PC to your home stereo system, but you'll have to fly
blind because it doesn't have a visual user interface.
Specifications:
Color:Black


Connector Type
USB 2.0,Stereo RCA,3.5 mm Stereo mini
PC Speakers (Extended Specs)
Cable(s) Included
Stereo RCA cable


Cables type
Stereo RCA cable


Color
Black
Manufacturer:

Logitech