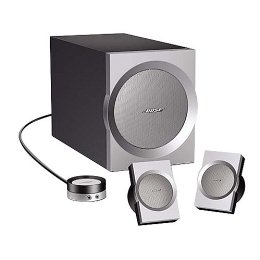 Transform your computer into a premium high-quality audio player with
these innovative and compact speakers from BOSE®. Your MP3s, CDs,
internet radio, DVDs, streaming video and games will sing with rich
resonant lows and exceptionally clean, full sound. The set includes 2
deceptively small satellite speakers that sit on your desktop or attach
to your flat panel monitor to free up space. A compact Acoustimass®
module fits neatly under your desk and delivers impressive lower tones.
An all-in-one control pod houses a headphone jack, volume control and
auxiliary input. Includes mounting brackets, audio input cable and
detachable AC power cord.
Features


Powerful and compact computer speakers from BOSE®

Play MP3s, CDs, internet radio, DVDs, streaming video and games with premium high-quality sound

Satellite speakers sit on desk or attach to flat panel monitor

Compact Acoustimass® module for impressive lower tones

All-in-one control pod houses headphone jack, volume control and auxiliary input